Board of EducationContinuing to teach when there is a shortage of teachers requires painful choices, warns the Board of Education. For example, a 'drastic' option is fewer compulsory teaching hours. The way work is distributed in schools could also be reshaped.
Teacher shortages persist and are unevenly distributed. So the time has come for tough decisions to deal with scarcity, says the study published by Scarcity on Thursday. These will have important consequences for the teaching profession, educational quality and equal opportunities.
President Edith Hooge of the Board of Education: ,,The shortage of teachers should never get used. We must do all we can to recruit and retain teachers. This should also be continued in the future. But many schools are now struggling with shortages and, according to estimates, will continue. So at the same time, far-reaching solutions are needed to continue to deliver a good education."
According to estimates, the scarcity will in fact not diminish and will increase even more after 2030. This is why the now dismissed Minister of Primary and Secondary Education, Dennis Wiersma, asked the advisory body to map the 'options' and the 'implications' if we are to continue to provide a good education.



Far-reaching solutions are needed to continue to deliver a good education

Edith Hooge, President of the Board of Education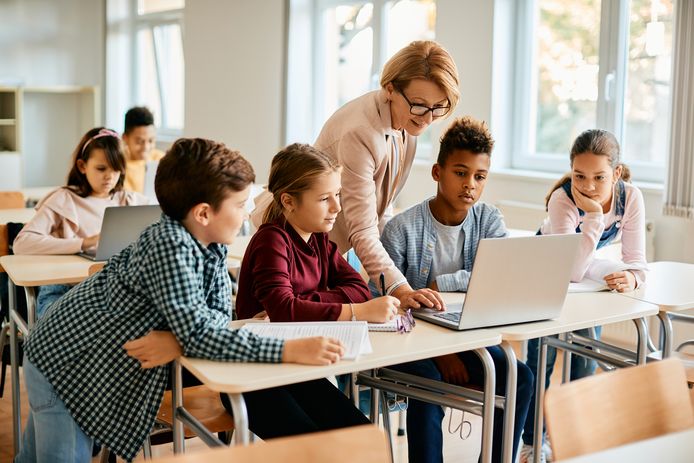 No ready solutions
There are no ready-made solutions, emphasizes the Board of Education. It's working on two options: first, a limitation of what schools have in the program. Consider adjusting the length of compulsory education, national targets and final levels, and societal expectations. This is 'a far-reaching but also promising course of action in dealing with teacher shortages'.
For example, the Board of Education outlines a scenario that is already realistic in some schools in big cities: students go four days to school and on the fifth day there is a program at the school, but this is not part of the educational offer. This does not have to be provided by qualified teachers, be mandatory or available.
The second direction, better organization of work in schools, requires greater coordination and commitment over a longer period of time. The central idea is: the total work and activities in a school can be distributed more efficiently among teachers, specialists, teaching assistants and other support staff. Volunteers or parents may even be available for certain activities.
How exactly did the shortage of staff come about? We explain in the video below (the text continues below the video):
'Using computers is not a solution to teacher shortages'
The use of digital technology does not alleviate the current shortage of teachers, according to the Board of Education. Remarkable, because computers and software are increasingly inserted in education and can assume, facilitate or accelerate certain tasks of teachers.
However, the advisory body reports in an exploratory report on Thursday: 'The use of digital technology makes teaching more complex. And it doesn't save any money in the sense that fewer teachers are actually needed. Because teachers' involvement and professionalism are always needed.'
In addition, the use of digital technology in the classroom can influence the mastery of skills such as language and mathematics, according to an international survey. Perhaps the most important reason for rejecting this option, according to President Edith Hooge: "The use of digital technology increases the odds of inequality. Vulnerable children who receive less at home often don't have good material (Wi-Fi or laptop) and learn much less with this method than with a teacher."



Now it's up to politicians to make decisions and indicate very clearly the bandwidth and direction

Edith Hooge, Board of Education
everyone's business
In any case, the Board of Education considers it important to take into account schools with difficulties, for example in deprived areas, in the search for solutions. Hooge: "Dealing with the persistent and inequitable shortage of teachers is everyone's business. So don't praise yourself as a school or council if you are not (yet) suffering from shortages, but show solidarity and come to the aid of schools and councils that need to deal with this."
With this exploration, the president wants above all to indicate that clear rules must be made to fill the shortage of teachers, such as an adjustment of the mandatory teaching time. Only then can schools 'get out of improvisation mode', as she puts it. Now there is talk of a 'grey area'.
Hooge: "School boards have tough choices to make here. We describe some. Now it is up to politicians to make decisions in this regard and to indicate very clearly the bandwidth and direction".
Response from the Ministry of Education
According to the ministry, the Education Union's report offers 'insights to continue working on this issue', it said in a response on Thursday morning. The ministry points out that solutions are already being worked on, for example, encouraging lateral entrants. But, according to a spokesperson, it will also analyze proposals made to reduce teaching time and resort to 'other' professionals. 'In doing so, we took into account, among other things, the uneven distribution of deficits across the country, with deficits being most acute in large cities.'
Merel van Vroonhoven made the switch and decided to become a special education teacher (video):
comment can be found at the bottom of this article. Only comments with a full name is placed. We do this because we want a debate with people who stand up for what they say and therefore put their name to it. Those who have yet to enter their name can do so by clicking on 'Login' in the top right hand corner of our website.
Watch all our work and career videos here:

Free unlimited access to Showbytes? That can!
Log in or create an account and don't miss anything from the stars.

Yes, I want free unlimited access