Max Verstappen equaled Ayrton Senna two weeks ago in terms of Formula 1 wins (41) and saw this as the perfect Father's Day gift for father and early coach Jos Verstappen. The latter enters now La Gazzetta dello Sport about the driver who became his son, training together in the rain and that the two should always talk before a race.
There were times when the Verstappen family was happy with a Grand Prix victory, let alone 41. "Then comes the moment when your son reaches the same number as the great Ayrton Senna", says father Jos today in the Italian newspaper. "I don't make comparisons and I certainly don't say they're on the same level, but Max is special and that's special to see as a father."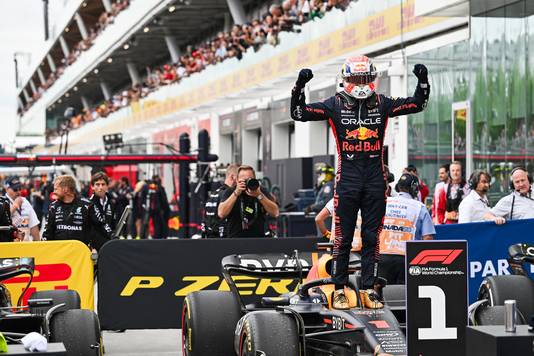 The double world champion himself was looking forward to the next race in Canada, next weekend in Austria. ,,Max is not a big fan of numbers and records. The only thing that counts for him is the races and he knows he will keep winning for a long time if he has the right car for that." Jos says his son has become a better rider in all areas than he was when he debuted in the premier class in 2015 aged 17. "He has more experience and has really become a man, not the child from the beginning of Formula 1. He is still growing and he continues to learn things."
Father José counts on gazette about Max's 'gift' of adapting to the car and track conditions, which means it never takes long to find the limit. "He has a 'crazy' feel for controlling the tyres, even as a kid," said the 51-year-old former driver.
This was all made clear once again in wet qualifying in Canada, in which Verstappen made no mistakes on his way to pole position. Did Max train extra in the rain like a young Senna? ,,On Wednesdays, he finished school at noon. Then we loaded up and drove to Genk, where we did both dry and wet tests. Later, in Canada, he thanked me over the phone for always having him. pushed to improve in the rain."



Anyway, I want to talk to him an hour before the race because I know the strategy and I know what he's doing. it calms me down

Jose Verstappen
Jos hasn't been to every Grand Prix in a long time, but the two still call almost every day. "Even if it's just for a few minutes. Anyway, I want to talk to him an hour before the race because I know the strategy and I know what he's doing. It calms me down. It does exactly the same when I have a rally somewhere."
Asked about his son's best victory, according to Jos there can only be one. "The one in Abu Dhabi in 2021, with which he became world champion for the first time", says father Verstappen, who shared an intimate moment with the Red Bull driver after the race. "Overtaking Lewis Hamilton on the last lap was so obviously not yet, even though Max was on new tyres. But he was so aggressive and managed to attack Lewis where he didn't expect it. A great move.
Result, position and program
See this year's Grand Prix results, position in the overall standings and schedule for the remainder of the season here.
Free unlimited access to Showbytes? That can!
Log in or create an account and don't miss anything from the stars.

Yes, I want free unlimited access