Despite the difficult start, Fabio Jakobsen sees enough sprint opportunities in the first week of the Tour. He wants to win and is gearing up for another tough three-week battle on the Tour. "It will hurt in the mountains, that's the other side of the sprinter's existence."
Teammates and leaders of Soudal-Quick-Step, the team that made the Tour successful. Fabio Jakobsen (26) and Julian Alaphilippe (31) sit brotherly next to each other for the press conference, but are actually in different worlds on this Tour de France. The Tour starts for Jakobsen with a two-day survival in the Basque Country, while Alaphilippe is looking forward to these stages. When asked which stages he circled in the coming weeks, the two-time world champion is clear. ,,Saturday. I like this phase, the course suits me well. If I manage to have the yellow in the first few days, it's a dream. Although I know it will be difficult."
The only thing that Jakobsen expects in these first two days is the Basque fans. ,,The Basques are famous for their cycling madness. It will be full on the side of the road and it will be a special Saturday." After two days of suffering, Jakobsen hopes to get his turn when the peloton rides from the Basque Country to Bayonne, France, on the third stage. In the unlikely event that he fails to race, hopefully one day later in Nogaro. Jakobsen: ,,We hope to race on the 3rd and 4th, but the peloton makes the race. You never know for sure, but our eyes are on it. And stage 7 to Bordeaux will definitely be racing. A pure sprint."
There's a good chance he'll have to race against his old teammate Mark Cavendish (38) on the streets of Bordeaux – and therefore perhaps sooner. Jakobsen is convinced the Briton can knock Eddy Merckx's stage record (34 stage wins) out of the books. He also favors Cavendish. ,,I hope Mark has a good tour. In Rome (Cavendish won the last stage of the Giro, red) Mark showed he still has it. It's good for people that he's back on Tour. I hope he gets the result he wants and wins a stage."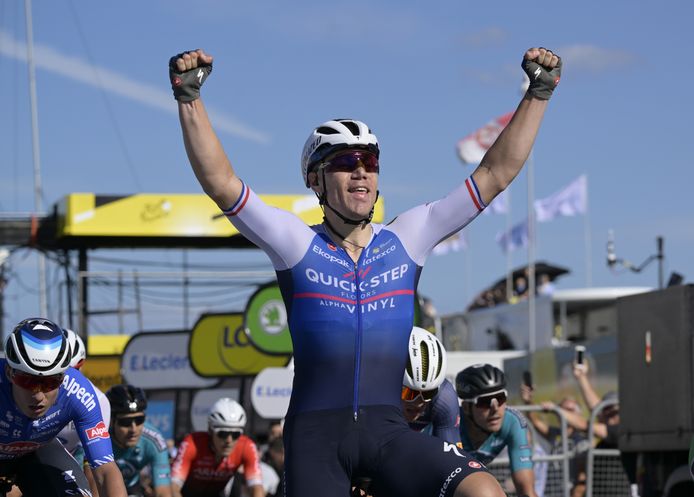 A year ago in Nyborg, Denmark, Jakobsen fulfilled his own dream by immediately winning the front row. Victory on his Tour debut, two years after his dramatic crash in the Tour of Poland nearly killed him. At the same time, his Tour debut was one of the toughest fights on a moto. His teammates were waiting for him at the finish line in Peyragudes, stage 17, when he came in last. In all, 15 seconds within the time limit.
It's his destiny, Jakobsen is ready for another battle on the Tour. Not only with your opponents in the sprint, but also in the mountains. "My preparation was the same as last year. The Tour shouldn't be easy, that's why the Tour is. I will feel pain, I'm sure. This is the other side of the sprinter's existence. I hope to finish on time every day."
According to his sporting director, Tom Steels, Jakobsen is even better than he was a year ago. ,,Fábio first had to come back for a long time, but in the first Tour he won right away and had to fight against time. He takes that experience with him on this Tour. The toughness to win in the Tour. Because winning on Tour is a different fight, a tougher fight. Last year Fábio still didn't know that, now he knows. "
Tour de France
• See Thijs Zonneveld's tips for the Tour cycling game here
• See all the teams and participants of the 110th Tour de France here
cycling calendar 2023
What days is the World Cup and when should I keep my schedule free for the Tour of Lombardy? Check here when your favorite race is scheduled for this year.
Listen to all our cycling podcasts here
See all our cycling videos here
Free unlimited access to Showbytes? That can!
Log in or create an account and don't miss anything from the stars.

Yes, I want free unlimited access